Products Your Shop Needs for the Holidays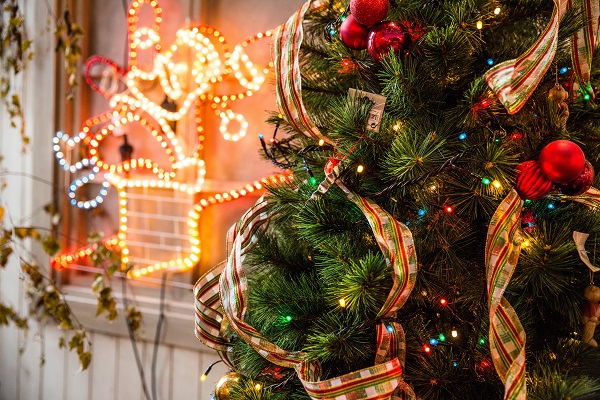 Santa's elves are hard at work prepping for the holidays, as we all should be. The dates haven't changed, but the holidays are coming sooner and sooner every year. We haven't even made it to Halloween, and Christmas trees are already being sold in stores. Make a list and check it twice with these must-have products your shop needs for the holidays because Santa is coming to town.
Santa watches children's behavior all year, so he can sort through who is naughty and who is nice. For the holidays, it is best to refer to past records to see what went well, what didn't and what could be improved, all while considering new and rising trends.
Reds and greens are a given holiday color palette. It is consistently popular, and it appears to remain that way. However, other colors do come into play. Many consumers are looking for more unique styles that take a step away from the traditional while remaining festive in its overall style.
Spruce up your style and prepare your team because the holiday train is starting to board, and it is moving fast. All aboard the holiday train. Let our wholesalers at San Diego Florist Supply in San Diego, CA help make the transition a little easier with these must-have products your shop needs for the holidays.
Containers
Contain your excitement because it is so easy to go overboard on holiday shopping. That is why preparation is so important. Although we can give you advice on what you should stock, only you know what sold successfully in your shop this past year. Communication and preparation are your pathway to a smooth holiday season.
It is important to compare. Compare your previous records with the estimated hopeful increase in buyers. Contrast the past year's trends with this year's trends. After evaluating your list (of information), prepare your inventory because buying early gives you more of a variety to choose from. You don't want to be stuck with the leftovers.
The key to any flower arrangement for the holidays is the accessories incorporated in. One of the most important accessories starts at a flower arrangement's core, its foundation. Unless your client requests a hand-tied design, it is important to offer options when it comes to containers. Some must-have containers for the holidays include popular holiday shades. Greens and reds are given options, but there are other containers that prove essential for the holidays.
The Christmas season is surrounded by giving, glitz and glam and all things magical. Consider gold when buying containers for your holiday arrangements. Gold vases and containers have grown in popularity. Their popularity could be due to their shimmery feel, or perhaps, it is found in their wide range of uses.
Their gold design pairs wonderfully with the red floral shades of Christmas, but gold containers can also be reused for glam birthday designs and more formal events. This makes gold vases and containers a must-have choice for holiday prep.
Popular Florals and More
Choosing florals that work with popular holiday color schemes is one way to better prep for the holidays. Red and green are givens for Christmas trees. Blues and whites are for snowy nights, and silvers and golds go with the bold styles of the holidays.
Poinsettias are a constant floral topping the charts of holiday floral forecasts. A holiday staple, poinsettias are often in high demand for every flower shop during the winter season. Potted or incorporated into designs, poinsettias prove cost affective for holiday inventory.
Of course, it is important to consider the traditional go-to flowers, such as roses, for holiday arrangements, but with every generation of buyers, there comes a different generation of design styles. Modern holiday designs tend to be enhanced to fit with living trends. With Christmas offering up beautiful shades of red floral, consider some alternatives to fit 2019's floral style. Forced bulbs such as paperwhite narcissus, tulips and amaryllis may be the alternative floral choice for more modern designs.
It is important to plan out your regular purchases along with florals for alternative designs. When ordering for pre-holiday prep, consider your pre-greened holiday centerpieces, such as evergreen trees. They allow you to add diversity to your designs and décor. Plus, they help cut down on labor costs. They are attractive to the consumer for their overall charm and diverse nature, and they are easy to personalize their design and send out in a flash.
They are long-lasting product for your shop, and they can be designed to meet your buyer's preference. It is important to remember that not all products are listed online. Be sure to visit our retail location for more of our available products.
Although the color and style of your florals are important, what makes a holiday arrangement a holiday arrangement is the accessories incorporated into its design.
Accessories
Among the most popular designs include their holiday accessories. With each design comes a variety of design styles, today's generation leaning more toward a twist on the traditional.
Along with alternative color schemes are alternative accessories. Ornaments and bulbs in shades of blues and purples are increasingly popular. Clean, natural designs are go-to choices, but designs with some personality (I.e. color and flair) are also making their way through the consumer mind.
Natural, picked-from-the-garden designs are what seems to be drawing in the millennial eye, but when it comes to the holiday season, bold and nontraditional is the way to go. No age can block the power of nostalgia during the holidays. The magic of the holidays is undeniable.
Wirework also gives you the opportunity to accessorize a holiday design, but you can't forget to tie the knot of the final product.
Ribbon
No holiday design is truly complete without a bow to finish. This means it is essential to include a variety of ribbon into your holiday inventory. Be sure to include different shades and textures. Pink, purple, blue, gold and the traditional Christmas colors of sheer and chiffon ribbon are just a few essentials.
Ribbon is useful beyond the holidays. This means there is never too much. It is useful when trying to transition a more traditional arrangement into a festive design or to personalize a design at any time of the year. They can also be used to personalize holiday wreaths and centerpieces.
Now's the time. Make a list and check it twice. To beat the rush of the holiday season. Be sure to order the products your shop needs for the holidays early. If you can't find what you are looking for on our website, be sure to reach out or visit our retail shop for additional products. We are here to help you prepare, so you can make the most profit out of the holidays.
Creating Seasonal In-store Arrangements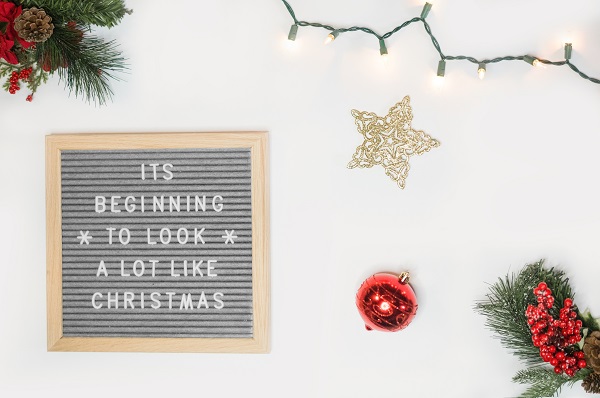 In-store arrangements give customers an example of your work and should accentuate your versatility as an artist. Displays that reflect the changing seasons in creative ways can also encourage impulsive, unplanned purchases and lead to a boost in revenue.
Due to their limited availability and the warm emotions seasonal items can inspire, they are a logical choice for creating updated displays designed to grab attention and get your customers in the mood to make purchases.
Principles of Designing Versatile In-Store Arrangements
The designs you create for in-store arrangements should be mid or economically priced. You can always add more, but you can't always take elements away without compromising the design. Create adaptable arrangements that you can modify according to your client's budget. You can easily add high-end flowers when working with a larger budget. For smaller budgets, use expensive blooms sparingly and mix them with inexpensive blooms.
Color is a great way to interpret the seasons. When creating an arrangement, start with color then you can select your flowers. Combine the different shapes and textures to create depth, balance and celebrate the beauty that nature inspires.
Let your creativity guide you. Be playful and experiment with shapes in flowers if they have a similar shade. You have the unique ability to shape the living world and impose order on what would otherwise be tangled, meandering wildflowers and greenery.
Having a good mix of containers including metal, ceramics, baskets and novelty containers is another way to make your arrangements change according to season. A container can add more depth to a simple arrangement or unbalance a very structured arrangement.
If you are strategic about the designs you create, there are always ways to adjust an arrangement. Our staff at San Diego Florist Supply in San Diego, CA can help you find the perfect accessories that will allow you to upgrade, update and upsell your designs.
Choose flowers and foliage that reflect the seasons. In this way, nature does know best. Your seasonal arrangements create interest, attract customers to your store and create a pleasant atmosphere to encourage purchasing.
Placement of Seasonal Displays
Seasonal arrangements and holiday items should be displayed at the front of the store within their season. Since they are only available during that season, these items are great for impulse buys. Also, placing seasonal arrangements in the front of the store will help sell these designs before the season ends without the need to mark down or discount the items.
Studies about shopper behavior show that the movement patterns of shoppers may mimic the driving patterns where they live. For instance, in countries like Australia, Japan and the UK, people drive on the left side of the road and explore stores in a clockwise direction, but consumers in right-side driving countries usually turn right when they enter a shop and proceed in a counterclockwise pattern.
The best way to know for sure is to watch the movements of your customers and set up your shop to maximize your sales. If you do see your customers walking through your shop in a pattern similar to how they would drive, park your seasonal merchandise in the front of the store to the right and display your seasonal in-store arrangements at the ends of aisles where they can be seen. Seasonal designs serve as a reminder that tis the season to buy something scary or merry, depending on which season is upon you.
Fall and Winter, What's in Store
As the leaves change and the temperature drops, people are in the mood to celebrate the shift in season. Create your versatile in-store arrangements to inspire the feelings of excitement that the approaching holidays accompany.
For the fall, draw your inspiration from nature and interpret the season with color and material selection. Florals in unexpected, vivacious colors amid dark-hued foliage and berries placed in dark bamboo baskets or metallic containers can bring out the best of the season's beauty.
Fall can also be a great time to make use of holiday-inspired containers like pumpkins. Dark blooms like dahlias and roses or vibrant chrysanthemums and sunflowers and other yellow, orange or brown colors look stunning when paired with a white or metallic pumpkin container. If you are designing with Halloween in mind, you need not sacrifice style. Stretch cobwebs across lively blooms and any other additional trinkets like spiders or eyeballs to go from fall to Halloween with no hassle.
Once fall steps aside for the cold months of winter, designs build upon bold colors to contrast with the season's appearance or white to replicate the delicate, cold and tingly surroundings of winter.
For winter, wreaths and garlands get everyone in the spirit and can be made with berries and evergreens. For an updated take on red and green colors for Christmas, consider combining dahlias and roses with succulents and berries.
Poinsettias are the standard holiday flower. The bright red color certainly has become synonymous with Christmas, but for a trendier use of this classic plant, consider white poinsettias combined with other white flowers with smaller blooms. Some buds to consider are roses, hydrangeas, jasmine and similar flowers in various shades of white.
When it comes to adding texture to winter arrangements, consider red carnations for a long-lasting flower that adds dimension. Baby's breath can be a gorgeous filler and can even create a stunning winter display on its own.
Tastes Vary, Design Accordingly
Preferences for designs and certain flowers vary. Each person develops tastes based upon experiences, influences, culture and environment, among other things. It is important to keep this in mind when designing in-store displays.
Create displays that accentuate your flexibility. Don't limit your designs to what you find appealing. Every customer is different, so your designs should celebrate that diversity.
Don't recreate the recipe to suit different generations. Instead, recreate the style to fit your customer's preference. To keep your store stocked and ready for any design request, choose a mix of fresh and permanent botanicals, and don't forget the plants. Plants are trendy and useful for many designs. You can always clip pieces or sections from potted plants, wandering vines and flowering branches or trees to add texture to your arrangements.
How to Buy
When visiting our wholesalers to consider new or updated display and cooler props, consider buying in bulk. This will help you save money and give you more options for displaying multiple versions of in-store designs.
Along with buying in bulk, you can take advantage of discounts and closeouts. Remember that seasonal products change and are normally available a season ahead. By staying ahead of these seasonal shifts and selecting corresponding products early, you can be a trendsetter instead of a trend follower.
By changing and updating the arrangements in your store, you add visual interest. Combining newer, strategically placed in-store arrangements with the right atmosphere to coincide with the season can encourage shoppers to return to your shop and perhaps even impulsively buy something to celebrate the season with style.
Halloween-Inspired Design Techniques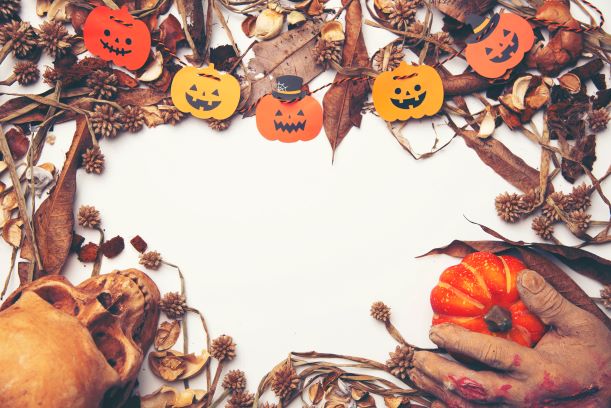 A lot has changed when it comes to Halloween-inspired design techniques. The goal is to be more fun and less creepy. However, the biggest change isn't found in the design itself, rather the audience you will be designing for.
What once was a holiday based on traveling from house to house, collecting candy and dressing up to the fullest extent of your parent's wallet has now turned into more of an adult holiday. Sure, the traditions remain relatively consistent. However, adults have adopted their own Halloween traditions.
Florists are given a more fun than frightful platform to base their Halloween designs off. Our consumers seem to have a natural tendency to be drawn to fall design with a little fun and fright thrown in, which is great for us. Today's Halloween-inspired design style is easily traditioned into fall months, so stocking up on these products will prove beneficial as nothing should go to waste.
Essential Containers
While the new Halloween design style is important, the container you choose for your Halloween designs can be just as, if not more, important.
Work with the rising trends. Pumpkins and sugar skull containers are gaining popularity for more personalized designs. This remains a bonus for their easy transition into your fall designs. There is no worry when it comes to overstock. Pumpkins, sugar skulls and fall colored containers are versatile options that last beyond Halloween and into the fall season.
Solid, fall-colored containers offer a plain (festive) platform, so adding the creepy and crawly accents is easy and less limited to a certain design. Halloween flower arrangements have a longer demand when designed to fit the season overall. These container choices help transition the flower arrangements in your shop. You can take out the "spooky" accessories like creepy crawlies and add in a few extra fall colored ribbons to give your Halloween arrangements in the cooler a second chance at finding a home.
Floral and Supply Options
You can never go wrong with staying stocked up on your traditional fall-colored florals. Sunflowers and orange and red roses will remain relevant and popular options. They can easily be manipulated to fit the spookier designs or stay simple for a fall arrangement.
Accent pieces are going to be what truly sways your designs in the direction you want them to go. Cattails and dried products are going to add in their own unique flair to Halloween-inspired designs. They remain consistently popular. If you are handy with wirework, let the creative juices flow and add a personal touch that only you can as a designer. Our variety of wire color options help give you that option. Whether it is the rustic wire options or the traditional fall wire shades, wire can really elevate a design when used properly. You can even incorporate a fun critter of out of it.
Many of today's Halloween-styled design techniques are incorporating cobwebs and sticks. These prove appropriate Halloween accents for their creepy and dreary feel. With adults throwing more and more Halloween parties, they have become a florist's audience for designs. With that being said, Halloween flower designs are in high demand. They are requested as décor or as hostess gifts. Among the more popular choices for accents are comical bugs, spiders and bats. They are fun with just a tad frightful thrown in.
Among these essential accents for your Halloween design are pods, berries and sponge mushrooms. They work great for this design inspiration, but they also lend well to the holiday design style. The products florists use for Halloween-inspired design haven't changed much. What has changed is how they are used. More of this and less of that- every design is going to be personalized to the audience it is for. Just as millennials often prefer a more minimalistic, green design, our modern-day Halloween designs should reflect that fun party look.
It is important to consider these accessories along with your flower and container choices to ensure you are getting the most bang for your buck, but don't stop there. There are some important must-haves for the Halloween design season.
MUST Haves
It is time to get creative. Halloween and fall are the jumpstart to the roller coaster that is known as holiday designing. Halloween is the holiday for creativity. With that creativity comes costumes and characters. Manipulate what is given to us in nature by adding color and texture. Tints and sprays give us a platform for creative license. This makes them essential for Halloween design styles. They open the door for florists to design freely and create the vision they aspire to.
Design Master Colortool Paints and Sprays are the main tool for a florist to keep on hand. Stay stocked for any occasion and every holiday. They are offered in a variety of different colors opening the door for design expansion. These tools allow you to stay festive and work with the product you have. Sometimes it is exactly what a designer needs to finish off a design, allowing you to go where flowers may limit.
Along with the Design Master paints and sprays are Smithers-Oasis accessories and products. As always, Midnight Floral Foam is a dark option for any design and a go-to product for those Halloween design styles. This, along with various other floral foams, are created to work with you, so the design you picture in your head can become a reality.
If you are looking to incorporate candles into your Halloween designs, Smithers Oasis Candle Stake options can be incorporated. Candles exude an ambiance. This ambiance is relevant to Halloween as a whole. For the dark and spookier Halloween parties, candles may be the exact thing your customer needs to set the mood for the night.
Popular Choices
Think outside of the box of products you just opened in your shop. Tis' the season for creative thinking. In addition to the traditional Halloween arrangement (that is cute and spooky) for those adult Halloween parties are the arrangements requested from that stay-at-home mom looking to accent her door or her kitchen table. Fill a pumpkin with flowers for a fun look she'll love. It is important to meet the floral needs of our consumers, so they don't turn to shopping at their local big box stores. A florist's job is to offer something unique that can't just be picked up anywhere.
We offer Smithers Oasis products that create a base for those Halloween styled wreaths or accessories for your standard designs. It is important to recognize the audience you are designing for all year round. The Halloween season is no exception.
As a florist, it is important to be flexible and work with what we have but stay stocked with what is needed and popular. Having versatile products and accessories in stock keeps your shop better prepared and ready for whatever the season's floral design trends bring. Our wholesalers at San Diego Florist Supplies, Inc. in San Diego, CA are here to help you stay relevant and trendy for your audience when it comes to Halloween-inspired design techniques.
Lasting Homecoming Flowers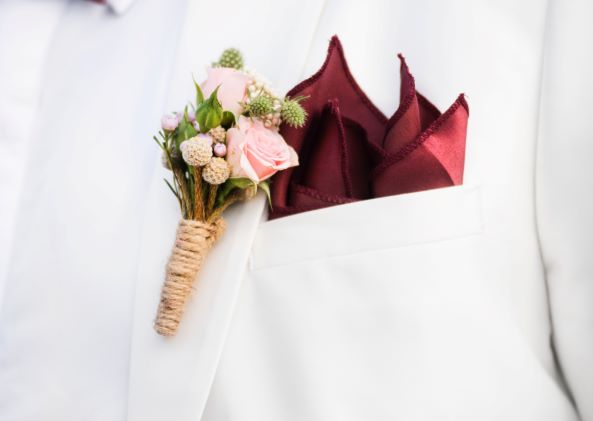 Styles for homecoming flowers vary greatly depending on location. In some areas, the old traditions of homecoming are celebrated with as much enthusiasm as prom. In other places, homecoming is less formal, and traditions have been modified, repurposed or changed entirely.
Occurring sometime in September or October, homecoming presents a special opportunity to increase your sales and extend your reach beyond your usual audience. If you can secure a following of young people with your homecoming designs, this can also lead to a very profitable prom season and a loyal customer base as these young people transition to adulthood.
Petals That Persevere
No matter where you are located, if you want your customer's homecoming to be a blast, the flowers have to last. When creating homecoming florals with fresh floral products, longevity without a water source is essential.
According to Jackie Lacey, AAF, AIFD, CFD, PFCI, "Any floral product used for homecoming needs to be able to hold up for a couple of days with no water source."
Keep homecoming looks fresh by using one of the many anti-transpirants that are available. Remember that there are differences between anti-transpirants. Some are more of a sealant and seal moisture in while others slow the moisture yet still allow some moisture to escape.
Anti-transpirants should be sprayed after your creation is complete, and no matter what type of anti-transpirant you decide to use, let it dry completely before refrigerating.
For popular and long-lived florals, chrysanthemums, roses, orchids and alstroemeria are all versatile flowers that can withstand the festivities.
Chrysanthemums
The star of homecoming florals is the chrysanthemum. These large, bright flowers are one of the most rugged and vigorous of all cut flowers, and this makes them perfect for homecoming. In the United States, the chrysanthemum is the largest commercially produced flower due to its ease of cultivation, ability to bloom on schedule, variety of colors and longevity.
Roses
Roses are a traditional favorite for corsages, bouquets and more with good reason. Roses have a soft, lovely fragrance and a sophisticated, recognizable appearance. The buds open slowly, and if they are cared for properly, roses are very long-lasting flowers.
Orchids
Elegant and exotic, orchids put a more unique twist on classic homecoming flowers and are another durable option. They maintain their fresh, elegant appearance when cut and can even withstand being out of water for the entire evening.
Alstroemeria
Available in a variety of colors, Alstroemeria sometimes features bright petals with contrasting colors or even little flecks. It is prized by florists for its beauty, versatility and endurance. Once picked, it can last a good two weeks in water and can withstand the demands of homecoming out of water.
It must be mentioned that Alstroemeria should be handled with gloves as a precaution. It can cause an allergic reaction with skin contact.
Creation by Location
Much in the way clothing and hairstyles differ in different locations, homecoming looks are influenced by location.
The Best for Texas and the Midwest
In Texas and some Midwest states, the phrase, "Go big or go home," is an understatement when it comes to homecoming designs. In Texas, homecoming corsages are known as Mums, and the size and complexity of these designs can be so great that some schools place restrictions on them to avoid distractions. Some mums even incorporate cowbells, so the distraction is not only visual.
Texas corsages or homecoming mums are fun and personal. Mums began as a single fresh chrysanthemum that evolved to become much elaborate. Prices for these designs vary according to style and location, but personalization can greatly increase profit when it comes to these designs.
When it comes to mums, if a girl is popular, she may accumulate many mums. The boys are given homecoming garters that are smaller versions of the girls' mums, often with the same trinkets and are designed on an elastic wedding garter to be worn on the young man's arm.
To design homecoming mums, stock up on an assortment of ribbon, flowers, permanent botanicals, charms, and trinkets. If you desire making grand, show-stopping mums, you can also carry plush animals.
To Appreciate a Southern State
Southern homecoming style typically is football-themed and favors carnations. The flowers can be sprayed with floral spray to match school colors.
The Best for the Northeast, Northwest and Southwest
In these areas, more contemporary options are requested. To achieve a contemporary style, it is important to note that this is a clean and sometimes architectural style that usually requires more advanced techniques with a special focus on trends. As a result, it is a good idea to include today's trends when advertising for homecoming in these regions. To keep up with the trends, design scepters and floral hair accessories. Roses can be used for big displays.
Toast of the West Coast
On the west coast, there is a more easy-going approach that leans to bohemian styles and more natural blooms. For a creation that is a bohemian rhapsody, create a piece that is eclectic and not as structured as the other styles with a bounty of blooms and other floral products.
Don't Think Twice Floral Advice
When designing for homecoming, focus on schools in your area. Always have those school colors available in flowers, accessories, and trinkets. Add-ons like plastic footballs, megaphones, team mascot charms and even mini stuffed animals help personalize your homecoming creations.
No matter what your needs may be, our staff at San Diego Florist Supplies, Inc. in San Diego, CA is here to meet your homecoming needs.
There are a few considerations regarding homecoming designs. With larger, more elaborate designs, transporting them can be difficult, and certain schools may have restrictions. Also, in some places, homecoming is no longer as popular as it once was, and some schools have canceled dances due to lack of interest. It is worthwhile to research local schools because schools that have canceled the dances will not be profitable to target for homecoming advertisements, but for some schools, homecoming is a miniature prom with plenty of opportunity for profit.
For those in areas where homecoming is still celebrated, these festivities can give you a glimpse of styles that are popular to forecast trends for prom. To reach potential customers in the younger population, social media is a great way to get your looks seen without spending a fortune on advertising.
A great way to get your looks viewed on social media is to offer a discount to young people if they tag you on social media. Encouraging liking/following on Instagram and Facebook is worth the discount for the potential advertising reach, especially if you get an influential young person to do this for you.
For those wearing homecoming florals, the party will be more of a blast if the florals last. By using either permanent botanicals or florals known for their longevity combined with anti-transpirants, your homecoming design can become part of a memorable evening that has the potential to be viewed and appreciated on social media long after the dance has ended.
How-To Upgrade Your Flower Wearables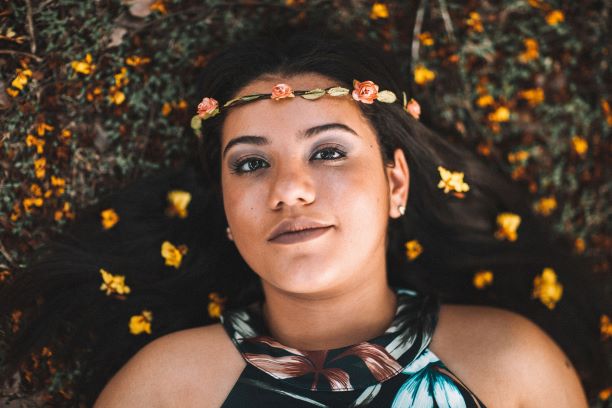 Flower wearables offer an opportunity for creativity and versatility depending on your client. While the traditional flower wearable is still very much a part of tradition for proms, homecomings, and weddings, the more modern buyer is looking for something new. We're one step ahead of you with these tips for how to upgrade your flower wearables.
Flower wearables are taking a step in the bold direction. The modern-day homecoming corsage and boutonniere have evolved in a very revolutionary direction. Just as clients differ, so do their tastes and styles. Learning to upgrade or differentiate your work from your competitors is important to adapt to changes hitting the flower wearable market, so your shop is the consumer's first choice in your area.
Embrace the power of greenery. Greenery is taking the floral world by the thorns and turning it in a different direction. While some consumers are drawn in by more traditional colors and styles, overall greenery is a more preferred trend for the modern-day generation of brides and prom/homecoming goers. While you need both, updating and upgrading your flower wearable resume may be just the makeover your shop needs to dominate event business.
Flower Jewelry
Flowers are a girl's best friend... or is it diamonds? That's ok. We combined both. Flower jewelry is all the rage in the flower wearable world. Upgrade your corsage and boutonniere options with a more stylistic approach. With every piece of flower jewelry comes more wire, more ribbon, and more creativity.
Rings, anklets, earrings, and necklaces galore, flower jewelry is an option you need in your store. It's cheesy but true. Any piece of jewelry can be recreated with the right product and the right inspiration. Flower jewelry gives you, the artist, creative flexibility, and the wearer more opportunity to express their individuality and unique style.
There are several products you'll want to have on-hand during event season. Some of the products you'll want to have in stock include Oasis floral adhesive, fabric, cardboard and a variety of ribbon. When it comes to flowers you'll need to have in stock, it all depends on the style you are looking to work with. Greenery and succulents are extremely important to have in stock for the customer looking for a more picked-from-the garden look. Others may prefer a bolder ranunculus centered floral jewelry piece.
Flower Hairpieces
Hair is the deal when it comes to creating the right staple pieces for an event. It is important to consider your client's style and the outfit they have chosen for the occasion. Your job is to lead them in the right direction. Adapting to learn the skill of creating floral hairpieces will open the door to bigger and better opportunities for your flower shop.
Flower hairpieces can be as diverse or specific as a client's outfit that they are accessorizing. Flower crowns have always been a popular choice, but floral hair combs, floral hats and other floral hairpieces are important to master and offer clients.
Depending on the size and style of the floral hair accessory you are creating, you'll need to accommodate the amount of material you prepare. A large floral hat is going to use a substantial amount more flowers, wire, and adhesive than a floral comb. Create according to your client's vision.
Statement Flower Wearables
Go big or go home. While today's generation is all for making a statement, the more simplistic, picked-from-the-garden designs are topping floral trends. In order to combine these two characteristics, many statement floral pieces have bold colors paired with a garden aesthetic. An example is peach or pink roses paired with a variety of greenery, moss, and succulents. This inspiration is easily transferred into creating a floral scarf that steals the show. It's a perfect accessory to drape across a solid colored dress to add the needed WOW factor.
If you are a florist who enjoys a challenge, floral corsets are taking residence in the flower wearable world. Although they don't appear to be topping your order list immediately, honing your skills and offering such an item opens the door for bigger and more profitable events. Remember to stock up on extra material and florals when taking on a floral corset because this project is one that will take some trial and error. Plus, depending on your client, you are bound to use more than expected.
Floral Shoes
These shoes are made for walking and talking up a storm. Floral shoes are a new and "growing" trend taking the event world by storm. What outfit is ever complete without the perfect pair of shoes?
They are no walk in the park to make by any means. Pun intended. However, for the client active in social media, this may just be the Instagram post inspiration they need. It should be. Once you own this design style, it is easily reused as social content. Take pictures. Create a clever caption that works with your shop and encourage your clientele to share and get 20% off their next pair. It's a win-win.
What shoes are ever complete without a purse to match? Leaf manipulation is incorporated into such a design. A floral purse to pair with some killer stilettos is every statement girl's dream.
With every flower design comes the passion and skill of the florist creating it. While there should be an initiative to change and adapt to these new trends given to you, it is important to be prepared. Our wholesalers at San Diego Florist Supplies, Inc. in San Diego, CA are here to help you get started with the products you'll need.
Remember every good thing comes from hard work and the willingness to change. In order to upgrade your flower wearables, you'll need to upgrade your skillset. Be sure to prepare yourself and take on the challenge full force. With new trends should come a different approach. It is just as important to adapt to change as it is to update your phone. if you don't update your approach to designing, it eventually stops working. Upgrade your flower wearables and see where the event world (specifically homecoming) will take you. You won't regret it, and we are here to ensure you have everything you need when you need it.