About Us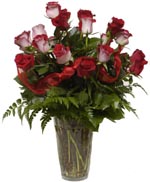 BACKGROUND:
San Diego Florist Supplies, Inc. has always been a family owned business and first opened its doors in 1973 on India Street in San Diego. In 1982, the business moved to 2550 El Cajon Blvd., where the warehouse, main showroom and business office are still located. Since then we have grown to 6 locations throughout Southern California and Nevada.
PRODUCTS AND SPECIALTIES:
SDFS is one of Southern California's largest full-service floral and design supply houses. It is our job to see that florists and interior designers get the supplies they need, when they need them. We work hard to offer the best brand merchandise at the very lowest prices.
We specialize in a full range of merchandise at all price points – from the most basic and economical to unique, high-end designer products. We offer a large choice of basic and fancy ribbons, Christmas and holiday decorations, trees, lights, wreaths and garlands, large display items, glass, plastic and mache containers, outdoor urns and planters, baskets, balloons, dried materials, candles, wedding and event supplies, paint products, a huge selection of silks, basic floral supplies, and much, much, more.
Whether your project is large or small, our friendly, knowledgeable staff is pleased to help you with all of your floral and design needs. We invite you to come in or call us for details on our free delivery service.