Natural-Style Flower Designs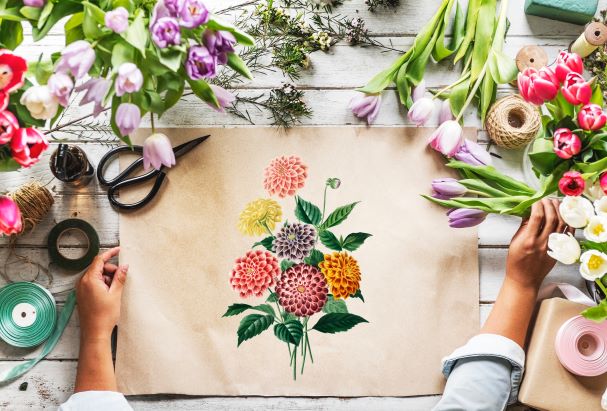 Flowers- They are all-natural, but their beauty is defined and categorized by a person's perception of them. Consider the approach you need to take with the overall natural-style flower design trends that are taking over your flower shop orders.
Less frills and more greenery, the modern-day flower shop receives more and more natural-style requests from buyers. What is your shop's plan for action? Take the trend by the stems and design for your clients with these natural-style flower inspiration essentials.
Every flower shop's course for action is going to vary, but the consumer's taste seems to remain consistent in the 2019-2020 trend forecast. Natural-style flower designs are taking over the day-to-day buys and are found specifically in the wedding market.
Go Green
More and more consumers are looking to go green in their homes. Don't be reluctant to stock up on plants or succulents as an option for the customer wanting the most natural products in nature. These are easy to store and have a long shelf life. They are also easily incorporated into other flower arrangements. Their versatility and natural-style aesthetic make them ideal for the modern-day design.
Going green isn't limited to the home or the environment. Going green has everything to do with weddings. More and more brides are requesting all-green designs for their outdoor weddings. Work with brides to break down what works and what does not.
Eucalyptus and salal are among the more popular choices. Buying these textured greens in bulk will prove cost-efficient. Aspidistra, boxwood, and pittosporum are easily accented into any design not just for weddings. Talk with the brides who are adamant about going green. Show them their options. Encourage them to explore a little color or variety for texture and depth. Regardless, any extra bulk greenery can be easily transitioned into your more day-to-day designs.
If your bride is looking to go green, explore your options together. This will not only help grow your Pinterest boards and your wedding design portfolio; it will help you further your skills for adapting to your millennial market.
MonoFlower Designs
Baby's breath, baby's breath, baby's breath... Yes, the modern bride loves a baby's breath-inspired design. However, there is so much variety that can be offered... A breath of fresh air if you will. Buying baby's breath in bulk is a safe bet but consider persuading those monoflower-loving brides to explore other options.
What the modern bride really wants is an unstructured, picked-from-the-garden look that every coming bride will pin to their wedding boards. A florist's job is to create this unstructured aesthetic with a structure and bride's dream in mind.
Among the top trending choices to keep in bulk for a blushing bride are the following: roses (classic), tulips (inspiring), calla lilies (sophisticated). lily of the valley (elegant), hydrangea (versatile), peony (feminine). Ranunculus (modern), gardenia (delicate) and stephanotis (traditional).
Flower Chandeliers
Flower Chandeliers are widely popular in the wedding market. These bold pieces carry a unique level of elegance and variety to any setup. Depending on your bride, your flower chandelier can be as breathtakingly bold or as minimalistic chic as requested.
The natural design trends need not take away from your overall design, especially when it comes to flower chandeliers. Consider featuring popular trends like the amnesia rose with gray and purple tones. Add dark burgundy, green accents and dusty miller foliage for contrast. The burgundy's richness adds a statement to the frosted look of the dusty miller and muted color tones.
This stylistic option can be done to any of your flower chandelier designs. If a bride requests the more frosted and/or green look, consider showing what a contrasting color can do to liven up the design. This could be exactly what the bride needs to tie the knot and write the check.
Flower Dreamcatchers.
Who says dreams don't come true? Consider adding more variety to your flower shop. With the same concept as your wedding designs, a floral dreamcatcher can easily capture the attention of any customer with a boho-inspired taste that walks into your shop. It also gives you the opportunity to add some fun and flair to those simple natural-style designs.
The concept of how to make a floral dreamcatcher is very similar to any of your flower wearables. A dreamcatcher is typically formatted around a hoop with products hanging down. When creating a floral dreamcatcher, it is important to consider the products you use. Foliage like salal, eucalyptus and myrtle are all reliable options because they last much longer without a water source. This gives you the opportunity to offer these floral dreamcatchers for an event or wedding with a much greater chance of vibrancy throughout. Orchids and spray roses are among the most popular complementary flowers.
To create the base design, you'll want to stock up on the wire that works best for your designs. Wire options are often in variety such as metallic, paper-covered and cotton yarn. Collect shells, beads, wood and macramé pieces for the essential complementary accents. Offering this bohemian compliment is a great challenge to tackle. However, it expands your creative horizons and allows you to offer more and more for your event business.
Wedding Arches
Wedding arches can be tricky, but oh so rewarding! Seeing your design come to life is a satisfaction few outside of the floral industry could appreciate. Wedding arches are often a beautiful compliment to a natural-style wedding along with a staple piece to the more expensive weddings.
Floral foam is a lifesaving tool when designing a wedding arch. Your options are as diverse as the style you are creating. Choose from foam cages, raquettes, sculpting sheets, and iglus pieces. These options open the door to more creative designs.
The concept of using lasting flowers in case of lack of water source is important to consider. This is another scenario where succulents are great to use. However, you must adapt to what is offered. When going through your wedding consultations, be sure to evaluate what pieces they want and go through which flowers will work best. If they are adamant on some, your floral foam choices will help source the essential water needed to get them through the ceremony.
When buying bulk for your natural-style designs, consider the most durable and flexible options. Don't refrain from exploring color and texture and talk with your customers about options they may have never thought of. Our wholesalers at San Diego Florist Supplies, Inc. in San Diego, CA are here to help with everything you need to meet and exceed the expectations set for natural-style, bohemian, rustic and overall outdoor scenic events.