Upgrades for your Everyday Arrangements
Creating versatile arrangements allows for easy upgrades. If your style and arrangements are adaptable, you can add and subtract to alter your designs to meet any budget.
It is also important to transition arrangements quickly and effortlessly. To make the process seamless, try binding arrangements with rubber bands. This allows you to swiftly move an arrangement to a different container. The same recipe in a shorter vase automatically becomes more compact and more affordable.
Binding an arrangement with rubber bands also allows you to take out some flowers or greenery and replace whatever you take out with something different.
If you have your everyday arrangements put together in a way that makes them more versatile, you can easily show your customers different styles and container options.
Remember that whatever you put in; you need to take something out in equal value.
Whenever you are upgrading an arrangement, the price should reflect the changes made. When raising the prices, it is a good idea to raise them in $20 increments. Customers can tell the difference between a $20 or $40 arrangement but may not notice a $5 difference. Many customers choose a midrange price.
Make sure your sales staff is adequately trained regarding pricing to avoid any confusion when offering different variations of arrangements.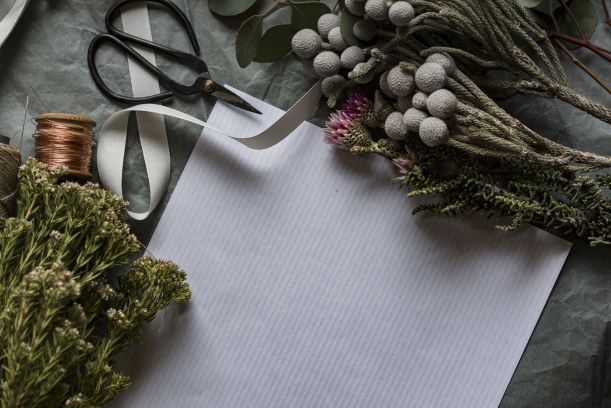 Fancy Flowers
Several factors determine if a flower is a high-end flower. High-end flowers are new varieties that are out on the market, flowers that don't have a high production rate or simply flowers that are more expensive due to popularity and supply and demand.
At the moment, different rose farms are working to create the first true blue rose. These farms are attempting to extrapolate a blue gene. The first farm to succeed will make millions, and those blue roses will be so sought after that they will likely be a high-end bloom.
When working with high-end flowers, layer the more expensive flowers on top of economical flowers, so the higher quality flowers are a focal point. These flowers need to be seen to be appreciated.
If you do any weddings or events, save leftover high-quality flowers. These will be great to add to arrangements to upgrade them, or you can use these flowers to create tiny bouquets tied with raffia that you can sell weekly.
Any design can be upgraded by upgrading the floral selection. For instance, change roses to premier flowers like peonies. Different flowers can change the mood of a design. Orchids can make a design look more exotic. Calla lilies bring instant elegance. Consider the characteristics of the flowers when deciding what to incorporate into a design.
The flowers you want to keep in your shop vary by region, personal preference and budget. We often receive mixed boxes of floral products that are in season. Don't miss out on an opportunity to get different or unusual varieties of flowers.
Any mixes that are already accessorized can be a time-saver, labor-saver and day-saver.
Take advantage of specials to give you an additional opportunity to test new products, offer new styles and show your creative flair. To stay updated on specials, be sure to stay in touch with us!
Always try things that are unusual. See how your products last and test them in different conditions. Know your products and know what you can do with them.
Our team of wholesalers at San Diego Florist Supplies, Inc. in San Diego, CA would be glad to help with all your floral product needs.
Chic Containers
It sounds incredibly simple, and it is. Changing the container can give your styles cross-generational appeal. Check with us frequently to see the container options that allow you to show your offerings in various styles.
Plastic is the most affordable container option, and from there, container upgrades vary from standard glass, seasonal collections, woven baskets, ceramic, cut crystal and art glass.
An example of an easy upgrade is a ceramic vase and tall curly willow. These small additions instantly upgrade an arrangement. The same recipe in a shorter vase, without the curly willow, is a more compact and more affordable variation of what is essentially the same design.
Artistic Accessories
There are many ways to add creative touches that will increase your profit. Whether you choose to use foliage manipulation, work with wire or add other embellishments, these artistic accessories can personalize arrangements and set you apart from other shops.
If executed correctly, foliage manipulation is impressive. Grasses like lily grass can be braided into shapes like roses. Any kind of tall, grassy product will work for this technique.
To add accessories, try braiding, weaving, binding and lacing. These techniques with foliage or products can be time-consuming but can set you apart from competitors.
When using foliage manipulation or braiding and weaving, make sure that these accessories are placed where they are noticed. These techniques need to be seen to be appreciated, so they should appear as a focal point on the design.
The first attempt takes longer, so practice to get comfortable with the action of creating these accessories. Repetition gains you time, so consider having someone in the shop create these designs once each week, so you have them in your shop to add to designs as needed.
Grasses used in these techniques like lily grass, Johnson grass and other greenery will last for weeks when placed in a water source. These designs can be made ahead of time, as opposed to having to stop and create them at the precise moment they are needed.
Manipulating foliage can get your arrangement noticed, but if not done correctly, the foliage will dehydrate.
Leaf manipulation looks like another product. Rolling and shaping leaves can add dimension and interest to your design. When using these techniques, create a consistent pattern. Pay close attention and use the same direction and width for these accessories.
These accents increase the dollar amount and add profitability.
Attractive Accents
Another way you can add personal embellishment to your designs is by working with wire. There are many ways to incorporate wire to either frame or accent your designs.
Train sales staff to use midollino, flat wire and other materials for wire embellishments. Artistic wirework can give you many quick, simple ways to add value with very little work involved.
Consider making wire embellishments ahead of time and price the wire. You want to have these additions already created when the shop gets busy during the holidays. Don't wait until the last minute because something creative like wirework, that should be fun, shouldn't be done in a frenzy.
Creating these accents early also makes it easier to keep track of the wire you are using to determine the cost. How much do you need to charge to make a profit?
Bullion wire can add value by creating an accent for your design. It can even create a frame or accent loop around the design.
A flat wire can create flower art, form a heart shape or other unique designs, making it a perfect accessory for holiday arrangements. Make squiggles or other interesting shapes out of diamond wire. Exclusive accents grouped together will increase the impact. Coils can give added support to flimsier stemmed flowers.
Use wire to create cardettes for arrangements in fun shapes.
Make your arrangements stand out. Simple coiling or loops are easy and fun to make. Aluminum wire can create a base to glue and place an ornament for Christmas or a heart for a Valentine's Day arrangement. It is both mechanical and decorative. A diamond wire can add support to flowers while also adding color and shine.
Beaded wire can be glued to magnets and attached to vases in fun shapes. A beaded wire can even go around leaves to accomplish the desired effect and obtain the price point you are after.
Mega beads are another way to add variation to arrangements.
What you can do with these small additions is limitless, and these adjustments can make a big difference.
Curly willow and fiber sticks give height, which instantly makes an arrangement more grandiose. You can also give height to arrangements with tall palm fronds and dissected Italian ruscus.
Parties, weddings and other events require more glam and pizzazz. Gems can be placed in the center of flowers. For a party, dangling dainty, exotic flowers like orchids create movement.
Signature Style
Find something that is a signature to your store. Creating a trademark that you can incorporate into your designs will help your shop's products stand out and be recognizable as yours.
Some artistic additions to your designs can set you apart and make all the difference in this competitive market. Have something distinctive that shoppers can't get at a big box store, and they will flock to your shop.
If you always reinforce your brand with your signature style, your customers will seek out these creative expressions that are unique to you!