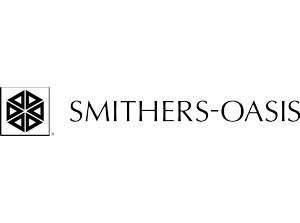 Sustainable Floral Design
Smithers-Oasis has grown into a leading global manufacturer and marketer of floral foam, floral design tools and accessories, and postharvest products. As a global company, Smithers-Oasis features a network of offices and facilities around the world. Smithers-Oasis is committed to sustainability and focuses on products that make a better world for all of us! This includes a more sustainable line of floral foundation products and educational initiatives.
Consumers prefer purchasing from retailers with sustainable practices and offerings! Offer eco-friendly products, share your sustainability practices and tell your customers you have taken steps to be earth friendly. 
OASIS® Floral Foam Maxlife
OASIS® Floral Foams are simply the best products in the industry for long-lasting flower life. Each variety of foam allows you to create with confidence while consistently saving you time and labor. Count on OASIS® Floral Foam Maxlife to support you with ultra-consistent floral foam made for maximum flower life. This product degrades by 75% within one year in an anaerobic environment (ASTM D5511).
OASIS® Midnight Floral Foam Maxlife
The dry gray foam transforms to rich black when soaked, creating the perfect canvas for any design. From traditional to bold, OASIS® Midnight fits any style! Leave OASIS® Midnight Floral Foam visible to create minimalist floral designs that are both on-trend and perfect for the modern consumer. This product degrades by 75% within one year in an anaerobic environment (ASTM D5511).
OASIS® TerraBrick™ Floral Media
Floral design meets the industry's first compostable, patent-pending floral media with OASIS® TerraBrick™ Floral Media. Plant-based, compostable, and re-usable for plants, this media is easy-to-design and boasts very good flower life.
FibreFloral™ Design Media
Effortlessly create natural-looking designs from FibreFloral™ Design Media from Smithers-Oasis. Derived from natural volcanic basalt rock, this product is easy-to-use to create stunning arrangements for any customer.
FloraLife® Express Ultra 300 and Crystal Clear® Ultra
Ultra concentration means the product is optimally concentrated to significantly reduce waste in water, packaging and transport. This means the product has all the great benefits of the regular FloraLife® Express Universal 300 and FloraLife Crystal Clear® but more optimally concentrated, leading to a lower overall footprint on the planet.
OASIS® ECOssentials™ Containers
Today's floral professionals are concerned about their impact on the environment. These reusable containers are a must try! Available in modern shapes and colors, they are made from natural materials such as bamboo fiber, coffee husks and straw. The deep water reservoir keeps flowers hydrated and fresh.
Glass
The glassware line by OASIS® Floral Products offers dozens of different shapes favored by florists worldwide. Available in multiple sizes, the glassware is great to use for statement event pieces or everyday designs. It is reusable and proudly made in the USA.
OASIS® Event Saddle
The OASIS® Event Saddle does it all! From events to sympathy designs. Engineered to support a single brick of floral foam, double brick of floral foam, a Grande Block and even a Designer Block. So many options for all your event needs. It is made of 70% recycled materials and can be recycled or reused.