2020 Wedding Trends: What You Need to Know.
Trends are created based on a shift in consumer preference. Some trends are developed throughout the year, while others are reused and recycled from previous generations. Each year, florists need to be prepared for new and reused requests for florals and design. It doesn't make any of our jobs easier, but it does keep us on our toes for both the everyday design and for weddings. Here's where to start.
If you haven't checked it, you should now. The 2020 Flower Trend Forecast is out with everything you'll need to know for upcoming wedding design color inspiration. While this new swarm of trends will be coming in our shops left and right in the form of a bride and her three Pinterest wedding boards, there is more to consider. You need to know what is staying and what is new.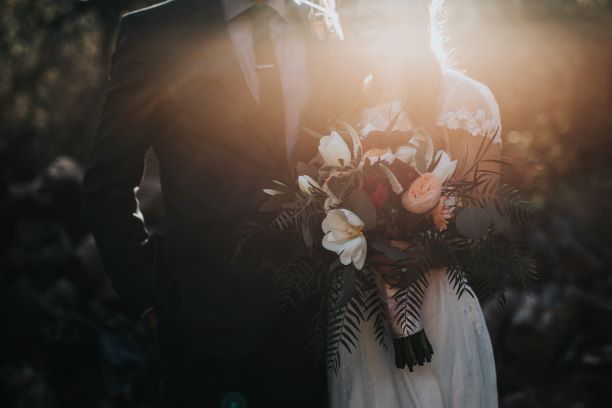 What is Staying?
It's a new year. You may be turning over "a new leaf" when it comes to a lot of things, but not when it comes to foliage. It is not just about living green anymore. You have to design green too. Living green and designing with greens are very much still in when it comes to wedding designs.
This trend may stem from the modern-day generation of couples' desire to be one with nature. It fills this longing with the essence of natural beauty and ties in the organic feelings that are experienced when committing to the unity of marriage.
Another trend that is staying and pairs perfectly with the green feelings of a wedding day is the infinity circle. It is found commonly in both centerpieces and bouquets. Just as the bride and groom are committing to grow together like buds in nature, the infinity circle symbolizes what it is like to live in this circle of life and in the binding of never-ending love.
Experiencing the beauty of these repeating trends and allowing them to work in harmony with new and rising ones will carry your wedding designs in a different and more unique direction in 2020. There is something extra special about the impact that foliage can bring to wedding design.
This green trend is even altering the trends that currently stand. Flower walls are being manipulated to meet the naturally minimal sense. Foliage walls are a fresh décor alternative. They can be filled with fruits, herbs fruits and more. It's a reflection of what 2020 is doing to standing trends.
Allowing yourself the creative freedom that comes with the intermingling of hard, soft and feathery pieces can take your designs in a whole new direction in the new year. Foliage designs can be used with many different wedding themes because the fresh, universal look carries over.
Nature's bounties can be powerful in both physical beauty and emotional meaning. It brings a couple back to the true meaning of their commitment. Designing with foliage can reflect the pairing of two green souls. They are beautiful and simple on their own, but when they are paired together, they pack a more powerful punch, complement one another both physically and emotionally and embody a whole new feeling of life.
Isn't that what marriage is all about? How amazing is it that you have the power to bring such meaning to a couple's big day? When consulting with engaged couples in the new year, don't be afraid to stand for the deeper meaning behind your designs. You are the expert. They want your advice. Don't be afraid to be bold and back up a more modest design.
What's New?
Of course, every year, a new set of colors trend and seep through to every area of our lives. Whether it is the rose gold frenzy of 2016 or the burst of color trend that stayed prevalent in the 2000s, color has always taken influence over trends.
Pantone has carried part of this hefty load with it through the years. Its influence is what has us on our toes for each new year's wedding design platform. This year's Pantone Color of the Year has many florists at the edge of their seats because who doesn't love blue? It is a classic.
Although it is loved, "Classic Blue" does pose a challenge for florists. There are very few blue florals. However, florists must learn to improvise. Lavender and purple flowers are likely to take reign. Due to base colors, these florals, when paired properly, will draw the blue out of designs. This makes designing "classic blue" weddings even more exciting.
The options for what you do new are open.
Be in front of the trends. They are a guide to every wedding flowers' success. Make pin-worthy designs with the elements your clients have in mind. Beat them to the punch. You are bound to see the same Pinterest boards and repurposed inspirations. All that matters are that your couples feel listened to and confident leaving their wedding to the work of your experienced hands.
They get the last thought. They need to be happy. It is their wedding, after all.
Whoever thought we would be designing with dried flowers and monochromatic wedding colors? Well, we are. 2020 weddings are more wide range than ever.
You have the draw from the modern "a new leaf," a romantic sense of the bohemian and sophisticated feel from the "black tie and barefoot," luxurious and elegant luxe and velvet textures from the "posh and polished" and the forward leading path towards the whimsical side of a "vibrant vibe." You have it all. Now, you have to make it your own. Just like every design, every designer will do things a little differently.
Every wedding florist has the same palette. What you do to make your weddings your own is up to you. How are you planning to make it to the Pinterest boards of the blushing brides and grooms to be? You must be willing to take each trend, embrace it, then make it your own.
To truly make an impact with these 2020 wedding trends, both old and new, you'll need to be ready. Our wholesale florists at [Wholesale name] in [location] are here to help you prep your wedding flower inventory. Stay on top of the trends and get first pick when you pre-book your wholesale wedding for the new year.
Happy designing and Happy New Year!