Hot Marketing and Design Styles for Millennials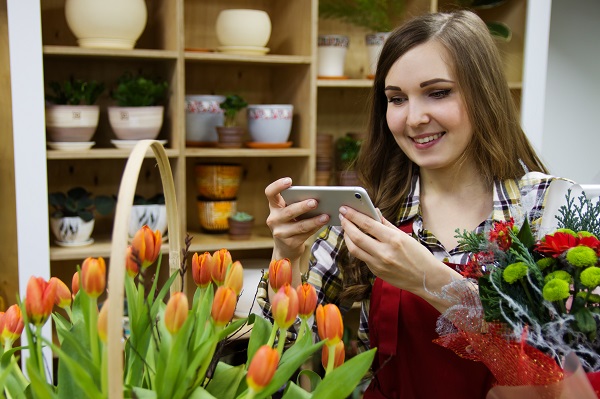 The job of a local florist is changing- DRASTICALLY. Everything we know as fact is now questioned by a new wave of trends from the rising generations. Clothing, haircuts and musical tastes all circle back around through each generation as new. We can't let our art fall between the cracks. Sending flowers isn't a lost gesture that only older generations participate in. Millennials crave that two, just in different ways. Sending flowers still has the potential to gain traction across a wide-range of audiences. In order to do so, our styles must change, so our work stays relevant. It's time to turn old into vintage and outdated into aesthetic. The time is now, and these hot marketing and design styles for millennials will get you started.
FIRST: You'll Need a Platform.
The Millennial generation is for platforms. They are all about supporting a cause, a look, a feel and an impact. Due to a changing economy and job market, millennials aren't as inclined to pay to have flowers sent to someone as a gift or as a random gesture, but they will run last-minute to a grocer and grab something out of their display. Millennials are more inclined to buy a monthly wine subscription, candies from different countries or $5+ for coffees that add character to their Insta feeds. #BASIC
With a little grooming and coaxing, the local florist has the capability to speak the right language and draw the modern eye. There is no definite recipe, but there is an overall concept that seems to be a connecting thread. Millennials are willing to spend money on something they feel adds value to who they are or what they contribute to the world. (I.e. a platform)
Unless you are living in a cave somewhere, you know that social media is a main form of communication for millennials, as well as, most of the rest of the world. Banners and flyers may still be an effective way to reach a certain demographic in your area. However, in order to broaden that reach and increase the millennial purchase, you MUST engage with social media. Whether you sub out a team to run it for you or create an aesthetic of your own, social media is the place your shop should turn to.
DISCLAIMER: Facebook isn't going to reach millennials the way you hope it would. It helps, but it should not be your shop's main focus.
When striving to reach the millennial audience, focus most of your time and effort into Instagram and Pinterest. There are three main tips to get the ball rolling. Create an aesthetic for your shop's social media: minimalistic and bold. If it is clean, consistent and overall pleasing to the eye, it will do better.
Promote social campaigns with the use of social graphics, hashtags and an initiative. Get your audience involved with promo codes, incentives to save or with a purpose they can get behind. This can be done by donating some of your proceeds to charity, donating flowers to a hospital or with the use of a #PayItForward campaign. The millennial audience wants to feel involved and like they are making a difference. If you are accomplishing that, you are one step ahead of the game.
Lastly, your language is a vital component for effective millennial marketing. When creating an aesthetic, developing an initiative or captioning your photos or products, know less is more. Speak less technical and more conversational. Don't be afraid to use humor, popular phrases or puns to add depth. Short simple captions are most effective. Millennials do NOT want to feel sold to; they want to feel spoken to. Keep that voice consistent throughout each of your social platforms.
SECOND: You'll Need a Makeover.
In order to grow, you must be able to adjust. Your shop only grows at the rate you are willing to adjust. The main millennial trend for flowers remains consistent. Millennials focus on the more natural and garden-picked designs. Heads up, millennials LOVE very expensive flowers, but they don't always want to pay a lot for them. It's a tough position to be in. Peonies, orchids and roses are consistently popular, but that's not the only obstacle you'll face.
Everything you have learned up until now is being called into question. What is considered hot and trendy millennial designs are consistently free form, loose and airy. Those bright, symmetrical designs are being replaced with picked-from-the-garden-themed designs that are placed on a white desk for someone's Instagram photo. Most hot millennial designs are a focal aesthetic for those Instagram-worthy looks.
It is important to keep your flower shop stocked up on succulents. They are widely popular in day-to-day designs, as well as, wedding designs. Understandably so, they are a focal point for the minimalistic aesthetic and pairs beautifully with garden designs. Consider getting a variety of succulents in bulk. With the popularity of succulent-inspired flower designs and dish gardens rising, it is important to have what the millennial consumer is looking for.
Pair the patterned and textured flowers like celosia, orchids, green ball carnations, thistles and anemones along with other ideal choices complimentary to the organic textured, natural, free-flowing designs. Bold colors like deep burgundy red are very much trendy. They are also classic. Keep those natural greens and greys and pair them with a bold pop of color like burgundy.
With these natural trends growing, berries, pods, mushrooms, vines and other dried and earthy products are all important to keep stocked, specifically when designing for a millennial wedding.
Just because garden designs are what is hot for millennials doesn't mean color is eliminated completely. Quite the contrary. Modern, bold and refined colors dominate a lot of millennial styles. The millennial generation is all about equality, tolerance and individuality. Color is one way of expressing those unique styles. They just don't want those color to dominate the whole style.
This year's Pantone Color of the year is no stranger to influencing boldness. For the millennials looking for those Living Coral undertones, encourage them to explore burnt orange and rust-colored flowers. For these designs, stock up on cymbidium orchids, dahlias, sunflowers and peach roses.
How your millennial customers embrace their style is going to differ. However, the structured, un-structured garden look and bold pops of colors are an overall phenomenon. If your shop is more wedding-oriented, branch off that trend. If you are leaning more towards day-to-day designs, be willing to "loosen" up your designs for a more free-form styles. If you want a millennial to spend the money, it will have to meet their style. Less is more for the minimalistic millennial.
THIRD: You'll Need a Plan.
How much does your flower shop sell to millennials? Are you looking to grow your reach, or do you see your numbers dwindling and are trying to look for a solution?
Plan and prosper. In order to market to millennials, they need to be sold to without realizing they are being sold to. This can be done through click-baity blogs, promo deals or hashtags. Check your shop's previous history of sales. Which flowers did you sell most of, and which areas need to grow?
When prepping for more millennial-inspired designs, consider the following flowers in your next bulk product purchase. Our wholesalers at San Diego Florist Supply in San Diego, CA are here to help. In order to design with what's hot for those millennial arrangements, you'll need these products.
The Garden Pieces
As previously discussed, the succulent craze doesn't seem to be going anywhere. Whether you buy them in bulk to sell as-is or are looking to design around them, their fleshy stems and overall trendiness are taking over.
Basic greenery, such as grasses and dried flowers, are hot decorative accents for millennial designs. They are expected to take over the wedding bouquet game. More and more brides are opting for primarily green, foliage-styled bouquets, along with other accents. They are typically best used in vintage and rustic weddings. However, they are being more widely used in bohemian, minimalistic and classic -aesthetic-type weddings, as well.
Greenery is widely accepted and embraced in garland forms, bouquet accents and as decorative cake pieces. Leafy eucalyptus and dusty miller are just a few of the accents that are most popular in the 2019 millennial designs. However, ferns seem to be what will be taking over. For the boho-chic, outdoorsy wedding aesthetics, these woodsy plants will continue to fill social feeds everywhere.
Dried lavender, baby's breath and daisies are a few popular added accents. These garden pieces are well-loved for their simplicity and are unique alternatives to the traditional wedding designs. These popular pieces are gaining traction for their overall sustainability, simplistic design foundation and their growing traction on the wedding trend forecasts for millennials.
The New Neutrals
Millennials are all for saving some money and saving the earth to. Millennials typically like to buy local. It doesn't quite make sense because sales from the local florist are still declining. One reason appears to be that the cost doesn't quite meet the cause. Millennials are willing to avoid big grocers and buy local if they feel it will make a difference,
Simple Mono arrangements and wedding accents are a craved design. Millennials want the feeling of flowers picked straight from their mom's garden. Stock up on clematis, lilacs and other flowers with local flair for your local-inspired millennial client.
Market in-season and local flowers. Be willing to adapt. Refurbished products are a millennial must. If you choose to design with local flowers and refurbished products, you add a significant amount of attraction to the millennial market. Don't be afraid to promote that and use it to your advantage.
For those neutral-driven millennial clients, consider adding some blazing bolds to extra white designs you are overstocked on. It will carry over to a bolder millennial client.
The Blazing Bolds
Millennials are all about trends, and 2019 is all about embracing color. Living Coral, the Pantone 2019 Color of the Year, is all that and more. It is a bold pink-orange that adds dazzle to any piece. For the clients that aren't into the blazing bolds, encourage them to consider it paired with a primarily white bouquet or a bouquet with mostly greens. It keeps that bold feel without distracting the eye. Creams, whites and greens are just the balance Living Coral needs.
Anthuriums are another next big thing for the bold-color-loving millennial. This tropical flower is a beautiful balance between classic and millennial modern. They are a natural fit to any wedding at the beach or a statement piece to a house on the water. These beauties can be paired with roses or lisianthus to emphasize a modern look but are best purchased for a millennial that loves color and has this unique taste. It may not be for all millennials. However, most millennials love anything that is unique and less traditional. It doesn't hurt to offer it.
The Feminine Features
For the millennial wanting something feminine but with masculine features, offer a bold, deep color matched with a delicate pink or daring red. Blue hydrangea paired with bright roses is just one example. Plus, these classic beauties are essential to keep on hand. These designs emphasize feminine features without feeling like an all-pink, baby shower arrangement.
This design style caters to the millennial mindset. It is moderate. The pink-is-for-boys-too vibe is easily picked up on. This design style has enough of both features to feel versatile, clean and overall beautiful. You can easily compliment this style with neutral tones such as: tan, peach, gray and brown. Brunia, cattails, cornflowers, boronia and pussy willows are just a few options.
One thing is for certain, the customer is always right, even when they are wrong. They are paying after all. Their style may not match your own, but ultimately, the product is for them. When marketing and designing for millennials, strive to build a reputation directed towards them.
Remember, millennials don't want to feel sold to; they want a cause to get behind, and they are willing to spend the money on something that fits who they are. Don't be wasteful. Use the products you have, just consider repurposing them in different ways. Millennials are our new buyers. They are who are going to keep the floral industry running. We must adapt. These hot marketing and design styles for millennials are one place to start. Let us help you expand your floral design demographic, so your shop can have a more successful future.