Alternative Flower Girl Flowers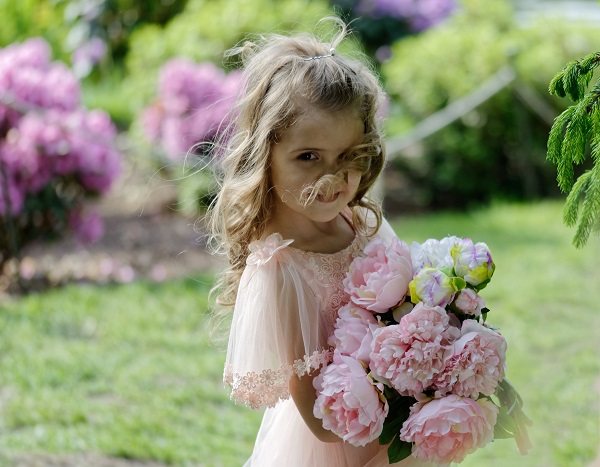 The smallest member of the wedding party can make a huge impact. When it comes to the flower girl's adorable and memorable appearance trotting down the aisle, the flowers are a big factor. Flower girls are called such for a reason, so give plenty of consideration to the flower girl when assisting clients with wedding florals.
Flower Girl History
Flower girls may be a tradition, but there are also some amazing alternative flower girl flowers to coincide with tradition yet still offer variety to prevent the flower girl from becoming too much of a distraction or worse, a disaster.
When discussing the flower girl and options for flowers, it helps to provide some history into the significance of flower girls. The tradition began in ancient Rome at a time when many marriages were arranged, and fertility was extremely important. The flower girl walked down the aisle scattering wheat and herbs to ward off evil spirits and bestow fertility and blessings on the couple.
The wheat and herbs the flower girls originally scattered were eventually replaced with flower petals, and the flower girl traditions that resemble the ones we recognize today can be traced back to the Victorian era.
The flower girl is a symbol of innocence and purity. When she waltzes down the aisle ahead of the bride, the flower girl represents the bride transitioning from childhood to adulthood as she takes on her new role as wife and future mother.
Before considering flowers, it helps to get an idea of how the flower girl may behave during the wedding. The girl's age is the first factor as that will affect her ability to carry something like a basket or appropriately scatter petals. Also, if she is extremely young, it may be difficult to keep her focused enough to make it all the way down the aisle.
While the role of the flower girl is mostly unchanged, modern flower girls are not necessarily as young as they used to be. With many people entering into second marriages with older children, flower girls are sometimes much older, and the role gives a daughter the opportunity to have an important role in the wedding.
If the flower girl is a bit older or more mature, she may be perfectly capable of carrying on the normal duties, but she should have adequate practice, direction and preparation. If the flower girl seems shy or a bit afraid of being the center of attention, she can always be paired with the ring bearer or another flower girl as a partner to give more confidence and make the children more comfortable.
Alternative Flower Girl Options
According to Jackie Lacey AAF, AIFD, CFD, PFCI, "Flower girls are wearing more so than carrying flowers."
Flowers are beautiful as accessories and can be marketed as part of the wedding attire. Flower girls can wear flowers and twine in their hair. Flowers can also be worn as anklets or as embellishments on dainty flower girl shoes.
There are beautiful ways to fashion flowers on a crown for the flower girl. A flower crown can either be small and delicate or large and bright.
Orchids have always been a popular choice for flower girl accessories and are an even stronger choice now due to their longevity and ability to survive without a water source.
Tropical flowers are getting their time in spotlight and being recognized for their ability to add unexpected structure and interest. Pincushion flowers are charming and versatile. Protea are South African flowers with a unique appearance almost look like they were plucked from the bottom of the sea. Protea represent hope and change, a nice sentiment for a wedding. Comments like these are a great way to convince a couple of the importance of florals.
Flower Menu Depends on the Venue
When determining what florals will accompany the flower girl's waltz down the aisle, have your client check with the venue prior to deciding. Some venues will not allow petals to be tossed on the floor and some refuse to allow confetti, especially if outdoors.
The venue is the stage that sets the tone for the affair. The presentation of the flower girl should accompany this scene. If the couple is having a beachy wedding, the flower girl can even have a buoy with tropical flowers attached to a rope or a large seashell filled with tropical petals.
For formal weddings, floral lanterns, a glowing candle in a lantern (can be fake for safety purposes,) a copper bucket or a hat can be used to hold petals or springs of lavender for the flower girl to toss or single stems she can hand out to guests.
Forest Florals
For meadow or garden party weddings, tin pails, terracotta pots, baskets of tree bark and vines or baskets with moss, florals and ribbons are very pretty additions to the flower girl's ensemble. Succulents and baby's breath can add simple and pretty embellishments to flower girl baskets.
For flower girls who are going to be sprinkling petals or confetti, petal cones can be made of book paper, or they can be made in special stationary with the names of the bride and groom. If you are using confetti, there are biodegradable options that are water soluble and still available in a wide range of colors.
If scattering flowers and confetti doesn't tickle the fancy of the bride and groom, fragrant herbs like rosemary, sage and thyme are eco-friendly and fragrant. Rosemary represents loyalty and fidelity and mint means virtue, so many herbs are a natural choice for the symbolic act of the flower girl scattering something to symbolize protection and future happiness and prosperity.
Some other unique and environmentally friendly options include dropping dried lavender buds, handfuls of fresh lavender, fresh leaves, eucalyptus petals and tiny pinecones.
For those who choose not to have the flower girl scatter any flower petals, confetti or paper, flower girls are carrying garlands and waterfall designs that are free form and not stiff or contrived. Cute and simple designs are favored with plants, vines and succulents taking center stage.
For flower girls who may have difficulty holding a basket, there are many very cute, memorable options. Flowers can be arranged in a heart pattern dangling from a string that the flower girl can easily hold. Hoop bouquets are quite lovely, and flower pomanders with satin ribbon allow the flower girl to lightly hold one item that will look lovely and smell delightful.
The flower girl can also hold a miniature bouquet that mirrors the bride's bouquet. This also goes along with the tradition of the flower girl representing the bride as a young, innocent girl. If a bouquet still seems too much for her to carry, the flower girl can also carry a single flower.
The Flower Trends Forecast for 2019 brought the colors and textures of the forest into focus with a "Forest Walk" trend forecast. Organic life is the inspiration for this natural look that welcomes vines, textured flowers in bold tones.
For flower girls, this look translates to vines and greenery that is loose and right out of the garden. Flowers can be simple and cute and contained in a woven, handmade or handsewn bag.
Fairy Wings and Magical Things
Another trend that was predicted in the Floral Trends Forecast for this year was called, "Ethereal Bliss." This trend is minimalistic with mythical and fantastical elements. The trend is influenced by soft chenille, distressed velvet and garden flowers and eucalyptus.
For any weddings that may have mystical tones in a natural setting, this is an opportunity to make the scene magical and utilize the flower girl's fairy-like appearance. For a little fairy flower girl, fashioning a wand will be a unique and interesting accessory that will be easy and fun for even the tiniest fairy to carry.
There are many ways to design a floral wand. Wands can also be heart-shaped and decorated with buds to match the bride's bouquet. The wand itself can be made of a long, natural twig. Silk, flowers, ribbons and sparkling embellishments look lovely being twirled and swirled by the flower girl on her walk.
If you choose the right blooms, the flowers can create a scepter. Tall, multiple blooms create a dazzling accoutrement. Agapanthus is an example of a tall-stemmed floral that can easily create a scepter. The great part about Agapanthus is that it is attractive and survives in a climate of chronic drought, so it should survive the wedding.
Another magical option for the flower girl is fairy wings. Thin, almost transparent butterfly-like wings are the perfect background for a floral masterpiece on fairy wings. Whether you cover the landscape of the wings with flowers or just add a few blooms to the middle, fairy wings are gorgeous on the flower girl and will probably bring her enjoyment.
Traveling Down the Aisle in Style
Flower girls are not always walking the standard walk down the aisle. Weddings have become more accommodating and creative when it comes to the flower girl. Some flower girls have ridden tricycles down the aisle.
If a flower girl seems shy but has a favorite stuffed animal, offer to make a flower crown for the stuffed animal so it can be pretty and give her courage and comfort on her walk down the aisle.
For flower girls who are very young, a wagon can be beautifully decorated with flowers and pulled by a second, older flower girl or other member of the wedding party. The wagon can also be decorated the way the traditional car looks that whisks away newlyweds – with flowers, ribbons, bells and cans attached to the back.
The great thing about weddings is that traditions can still be appreciated and utilized but also changed to coincide with whatever the engaged couple wants. If you need more inspiration, our wholesalers here at San Diego Florist Supply in San Diego, CA are always glad to help.
Parasols
Another somewhat unconventional idea for flower girls that is quite beautiful in photographs, especially for an outdoor wedding in the sunshine, is a floral parasol. The parasol should be the correct size for the flower girl and should not be a size that will overwhelm her or be difficult to carry, especially if there is wind.
The floral parasol design can begin at the middle of a premade parasol made of either transparent material or lace with a large flower like a peony then moving into medium-sized flowers like ranunculus into a pattern that continues and fills in with smaller flowers.
If you want a less opaque parasol, skip the premade parasol. Instead, use one long twig that connects to stunning flowers that have long yet flexible stems that will spray in all directions over the flower girl's head.
Personalized Options
Weddings are increasingly becoming more personalized and are a way to celebrate the unique story of the bride and groom with individual touches. If the bride and groom have a beloved pet, the flower girl is the obvious choice for escorting the pet down the aisle. The pet can wear a flower crown or collar. If the pet seems averse to wearing the flowers, you can also attach blooms to the leash.
Another way to incorporate flowers into a flower girl's walk is to decorate a sign with flowers. The sign is another way for a couple to personalize their wedding procession, and there are countless ways to exhibit the statement of their choice. Cut out letters, regular wooden signs, chalkboards and flags can all be embellished with flowers to match the rest of the wedding florals.
Part of the worry that comes with having a flower girl take part in the wedding, especially if she is young, is that she may not do what she is supposed to do. To prevent that from happening, encourage your clients to invite her to any wedding-related activities so that she feels comfortable with the other people in the wedding party and feels like she is part of it all.
Also, it is a good idea to suggest that if they fear she may become distracted, at the end of her walk down the aisle, she can go sit with her parents instead of staying up at the front with everyone watching her every move.
Flower girls are always adorable. Flower girls may be the smallest members of the wedding party, but all eyes are on them up until the appearance of the bride. This means that the florals you create for the flower girl will capture the eyes of the audience. Even though the personalized nature of some modern weddings may mean unconventional flower girls, this gives you the opportunity to utilize your creativity, pick some alternative blooms and display them in unusual ways to help realize the vision of the bride and groom.